The University and Careers Programme held our 3rd Annual Careers Day for Grade 10 on Wednesday. Students heard from executives from KPMG, Clorox, Starbucks, Net2Work, private banking and law about their educational and career pathways to this point. Their varied and diverse stories were inspiring to our students who participated enthusiastically throughout. One guest commented "They really came prepared," and another noted "Those questions really drilled down. Well done!"
Students had an introduction to CV/Resume Writing and heard from a Human Resources professional on the elements that make up a successful application. Next month, Grade 10 students will take a Career Interest Inventory in order to help them start focusing their personal research. Dr Mark Bowen also announced the introduction of Grade 10 Work Experience Week which involves students obtaining a placement in the workplace setting in June.
We were pleased to welcome the following four inspirational speakers to Careers Day with Grade 10 this year:
Roisin Sharkey
Director of Corporate Responsibility - KPMG
Roisin began her career in the Civil Service at the Department for Environment Food and Rural Affairs. She worked on a number of policy areas including policy development on Climate change and waste, as well as a number of policy interventions. These include transposing European directives into UK law, introducing UK legislation on climate change, working on behaviour change campaigns and convening stakeholders to plant a million trees. In 2012, Roisin worked for HRH the Prince of Wales as a researcher and policy developer on his environment and rural portfolio. Roisin currently leads a number of programmes to increase numeracy and literacy skills for people from lower socio-economic backgrounds.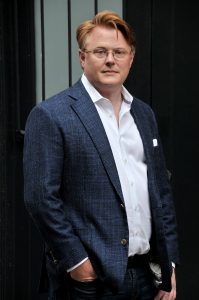 Todd Brock
Vice President General Manager for AMEA - Clorox
Todd has nearly 30 years experience in the Fast Moving Consumer Goods industry, working for three Fortune 500 companies; Pfizer, Revlon and Clorox. Currently, he is the Clorox Vice President General Manager for AMEA – Africa, Middle East, Europe, Asia, Australia and New Zealand, with responsibility for managing both the revenue and cost elements of AMEA's income statement. Todd has had roles in Sales, Marketing, Product Supply and Management. Todd holds a bachelor's degree in Marketing from the University of Oregon and an MBA in Finance from Rutgers University.
Jarrett Burks
Corporate lawyer - Cravath, Swaine & Moore LLP
Jarrett was born and raised in Philadelphia, United States. He attended Yale University and graduated in 2010 with a bachelor's degree in Sociology. After university, he joined a programme called Teach For America and worked as a Grade 6 English teacher in Delaware for three years. During his time as a teacher, he went to school at night and graduated from Wilmington University with a master's degree in Education. After being a teacher for a few years, he went to law school at Northwestern University in Chicago, Illinois and graduated in 2016. Since then, Jarrett has worked as a corporate lawyer for Cravath, Swaine & Moore LLP in both their New York and London offices.

Dean Humphrey
District Manager – Starbucks
Dean left school in 1995 after completing his GCSEs. He then studied a BTEC Diploma in Sports Science. Dean started working full time in retail where 21 years later he has progressed through several small, medium and now global companies and industries including mobile technology at EE and, more recently, coffee at Starbucks. His current position gives him responsibility for around 200 people across 18 stores in central London.