The members of Halcyon's Wellbeing Team are woven into the vibrant fabric of on-campus school life. Speaking to different members of the team throughout our Remote Learning period, we learn that they have successfully adapted their presence to an online space to become a virtual pillar of our community.
Our Wellbeing Team explains that integrating Halcyon's Wellbeing Programme into an online learning environment requires more than one-to-one coaching meetings with students - learners, teachers and parents alike can play a role in demonstrating pro-social, healthy behaviour, online and offline.
Creating a community-wide culture of support: family wellbeing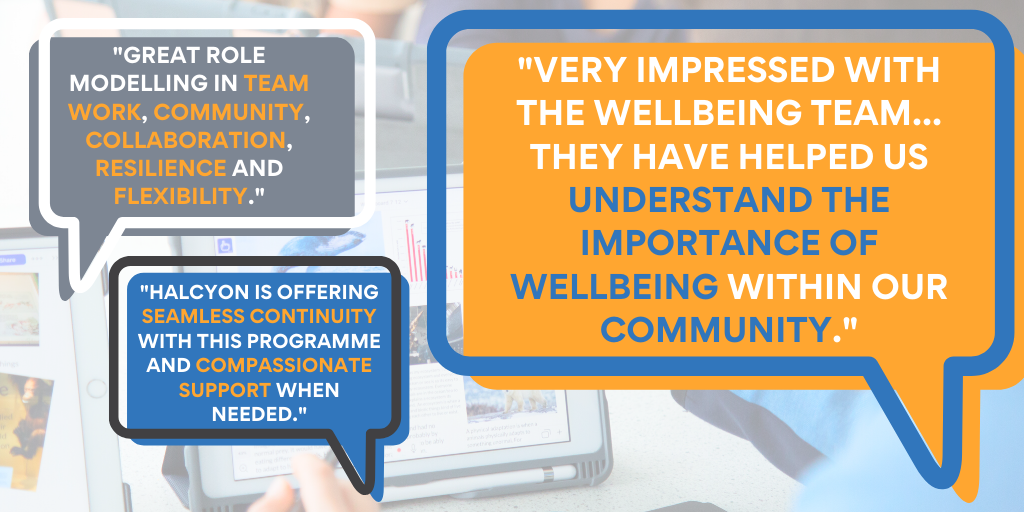 As our Student Wellbeing Leader Toby Cann reflects on the past weeks of remote learning, he highlights the importance of "relational wellbeing": the process through which members of our community learn about good wellbeing practices from one another. "On our campus, we use our school spaces to demonstrate prosocial behaviour, and we can use our virtual school spaces to do the same."
Our Wellbeing Team use their time with students and parents to emphasise the importance of wellbeing at home, leading to initiatives from students and voiced recognition of the significance of wellbeing from parents. Interactive Wellbeing sessions such as Restorative Practitioner Nito Harvey's Grade 7 Thinglink map remind our students to retain connections with one another in this period of social distancing, and our Student Council followed with initiatives such as 'Bring your Pet to School Day', an hour of Just Dance/movie scene recreation challenges, and our end-of-term livestreamed assembly - all of which encouraged students to remember their sense of place in our community.
The team's creation of the Family Wellbeing Site - a resource of academic articles, videos and activities to provide guidance and information for parents - encouraged our parents to reflect on the practices that are shared within the household. A Grade 8 and 10 parent explained that they were "very impressed with the Wellbeing Team - they have helped us understand the importance of wellbeing within our community."
Nito Harvey explains to us the need for "regular communication" in the school newsletter that shares updates and tips from the Wellbeing Team with the whole community - reminding us that we all share a need to take care of ourselves and one another.
How do we take care of ourselves in these unusual times?
Our Wellbeing Team has facilitated an environment where all members of the community understand the need to take care of their own and each other's wellbeing - and they equally understand the need to create a collective understanding of what 'wellbeing' means.
These areas of wellbeing are the 'three Ps': 
Psychological (an awareness of what constitutes good mental health);
Physiological (an awareness of what constitutes good physical health); and
Philosophical (attitudes and principles that guide our behaviour).
"During these times, everybody will face their own unique difficulties," explains Toby Cann, "and we all share these three different areas of wellbeing.e can think of the 'three P's as different sections of the vessel that we use to navigate the tide of challenges we face." By separating resources, activities and information into these sub-topics on the Family Wellbeing Website, our students and their families can develop a well-rounded approach to how they collectively manage their wellbeing.
In our call, Personal and Health Education teacher Celeste Gardner highlighted the need for parents as well as students to understand that physical exercise is an equally important part of wellbeing - something that our community can access easily through resources such as "the workout Flipgrid, the PHE activity Google Site and Staff Wellbeing Site."
Access to resources: finding personalised guidance
Our Wellbeing team explains that families' personal relationship with the 'three Ps' of wellbeing will vary extensively, and that our school can provide a range of virtual resources to provide multiple answers to each family's needs. Halcyon's evolving remote wellbeing services and resources include:
One-to-one meetings and counselling, for families
A Wellbeing Flipgrid, for the whole community
Family Wellbeing Site, for families
A Staff Wellbeing Site, for our teachers and staff
Weekly Wellbeing communications, for the whole community
All of Halcyon's teachers share the understanding that our virtual classrooms - just like their material counterparts - need to be accessible, engaging and interactive. Read more about our Remote Learning platform!
Our Wellbeing Team:
Toby Cann: Student Wellbeing Leader
Nito Harvey: Restorative Practitioner
Basi Amodu: School Counsellor
Jesi Rosati: Learning Coach
Celeste Gardner: Staff Wellbeing Project Leader